March 9th 2015, 9:38 am PT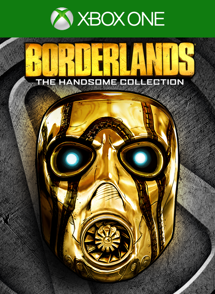 Game Description: XBOX ONE GAME EXPECTED TO RELEASE ON 3/24/2015. YOU MAY DOWNLOAD THE GAME FROM XBOX LIVE BEFORE THEN, BUT IT WILL NOT BE PLAYABLE UNTIL 12:01 AM EST ON THE RELEASE DATE. Once purchase is complete, download this game by selecting the "Manage" button on the product details page on your console.
Borderlands: The Handsome Collection includes the definitive versions of both Borderlands 2 and Borderlands: The Pre-Sequel, built specifically for next-gen consoles. For the first time in the franchise's history, play four-player split screen on a single television, all in stunning high definition. Experience the entire Handsome Jack saga (including all available bonus add-on content as of March 24, 2015). Continue the adventure by transferring your previous saves on your Xbox 360 to your Xbox One with the new cross-save functionality.