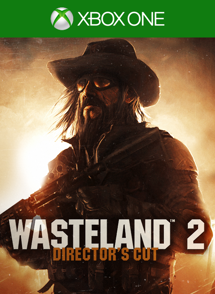 Content: Wasteland 2: Director's Cut
Check pre-order price and availability in your Xbox LIVE region
Game Description: XBOX ONE GAME EXPECTED TO RELEASE ON 10/13/2015. YOU MAY DOWNLOAD THE GAME FROM XBOX LIVE BEFORE THEN, BUT IT WILL NOT BE PLAYABLE UNTIL 12:01 AM EST ON THE RELEASE DATE.
From the Producer of the original Fallout comes Wasteland 2, the sequel to the first-ever post-apocalyptic computer RPG. With over 80 hours of gameplay, you will deck out your Desert Ranger squad with the most devastating weaponry this side of the fallout zone, test the limits of your strategy skills, and bring justice to the wasteland. With both short and long term reactivity, your choices ripple outwards, changing the game's events and forever altering the lives of those in the wasteland.
Xbox One Pre-Order FAQ