Content: Morphite 
Check pre-order price and availability in your Xbox LIVE region
Game Description: You may pre-download this game, but it will not be playable until release date (09/19/2017 – 9:00 PM).
Morphite features an infinite number of generated planets to discover, all with their own flora and fauna. Besides their individual beauty, visiting planets will prove vital for gathering resources, researching creatures, and gaining skills towards strengthening your character. Set in a distant future where humanity has colonized the far reaches of space, Morphite follows the story of Myrah Kale, a young woman whose life takes a sudden turn when a simple mission develops into an epic interstellar journey revealing her mysterious past and relation to a coveted substance called Morphite.
Xbox One Pre-Order FAQ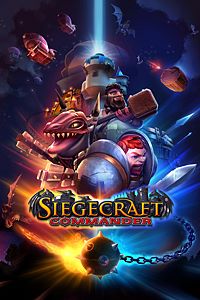 Content: Siegecraft Commander
Check price and availability in your Xbox LIVE region
Game Description: Play through the Knight campaign as you battle against the tribal Lizardmen or enjoy the groundbreaking PvP combat system that will deliver fast-paced real-time strategy action or tactical turn-based gameplay. Multiplayer allows the host to select a game mode before each match, while single-player focuses entirely on real-time strategic gameplay.
Xbox Live Gold Members, buy now and save 33% – Limited Time Offer.
Purchase Siegecraft Commander for Xbox One from the Xbox Games Store
Product Info:
Developer: Blowfish Studios
Publisher: Blowfish Studios
Website: Siegecraft Commander
Twitter: @blowfishstudios
Content: Gunscape
Check price and availability in your Xbox LIVE region
Game Description: Gunscape is an FPS world-building hybrid in which gamers create, share and enjoy their own maps; in addition players can discover and play maps created by others. Inspired by classic shooters, Gunscape takes all their most memorable elements and puts them in a toolkit to create single player and co-op campaigns or multiplayer arenas. Don't like building stuff? Then just blast your way through hordes of monsters or duel with other players online or split-screen! Maps can also be shared, played and voted on by the whole world, so you'll always have new levels at your fingertips!
Purchase Gunscape for Xbox One from the Xbox Games Store
Product Info:
Developer: Blowfish Studios
Publisher: Blowfish Studios
Website: Gunscape
Twitter: @blowfishstudios