NOTE: You may pre-download this game, but it will not be playable until the release date/time: 05/02/2019 – 5:00 PM (check the product page for release date/time in your region).
Product Info: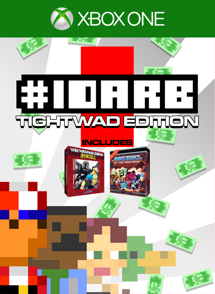 Content: #IDARB: Tightwad Edition
Check price and availability in your Xbox LIVE region
Game Description: The #IDARB: Tightwad Edition Bundle includes the original #IDARB and both the Walking Dead / Invincible and Masters of the Universe Expansion Packs. You can now battle everything from Moustache Cops and Breakfast to the Heroes of Eternia and the Walking Dead, all for a super low price that even Skeletor would consider paying. You too can now hold your own #IDARB couch parties with 7 of your closest friends or play up to 4 vs 4 over two consoles in head-to-head online matches. This bundle has everything you'd ever want from an eSport jumping future arena ball game, so get it today!
Buy now and save 50% – Limited Time Offer.
Purchase #IDARB: Tightwad Edition for Xbox One from the Xbox Games Store
Product Info:
Developer: Other Ocean
Publisher: Other Ocean
Website: #IDARB: Tightwad Edition
Twitter: @Other_Ocean / @IDARBGame